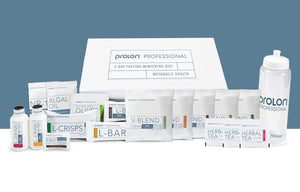 ProLon® is a 5-day dietary program that nourishes your body while promoting rejuvenating changes, including supporting metabolic balance.
The ProLon Fasting Mimicking Diet® gives the benefits of a fast while providing delicious food to help fight hunger and protect lean body mass. Get a trimmer waistline and the associated benefits of fasting without requiring ongoing lifestyle changes, such as long-term dieting.
What makes Prolon Professional different?
ProLon Professional is unique in that it is intended for the sensitive gut-- 
NO nightshades

NO lectins

REDUCED inulin

REDUCED grain 
This new ProLon also offers a new flavor profile:
NEW crackers

NEW olives

NEW soups with a NEW texture

REAL chocolate square each day
• Artichoke-Based Soup Mix
• Vegetable-Based Soup Mix
• Beet-Based Soup Mix
• Asparagus-Based Soup Mix
• Broccoli-Based Soup Mix
• Olives (Garlic Thyme)
• Almond Crackers
• All New Vegan Dark Chocolate
• Tea
• L-Drink
• L-bar (two flavors: nut-based and choco crisp)
• Supplements
Disclaimer:
During this period of COVID-19, if you are over 65 years of age, or are at high risk, do not consume ProLon.
If you have a diagnosed disease, or are on a prescription for Diabetes, cancer, Cardiovascular, liver or kidney disease, or other chronic disease, do not use ProLon without approval and supervision of a healthcare practitioner.
Also, if you have symptoms of an infection, we recommend that if you buy ProLon, to consume it only after the symptoms resolve.
Do not consume ProLon if you are allergic to nuts or other ingredients of the product or if you are underweight, pregnant or breastfeeding.
Soups: Vegetable, Minestrone, Vegetable Quinoa, Mushroom, Tomato
Also includes: L-bar, olives, kale crackers, tea, L-Drink, supplements